Beautiful Intracoastal Tours in Charleston, SC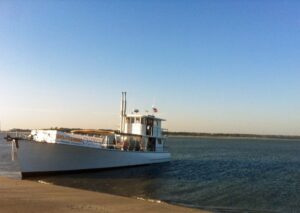 Intracoastal tours in Charleston, SC are the best way to experience the Intracoastal Waterway (ICW). The ICW is a historic, man-made waterway that dates back to the early 1900s and spans over 3,000 miles long. This system of rivers, harbors, sounds, and canals extend from Boston all the way down to the Florida Keys. Originally utilized during wartimes to protect shipments and trade, the ICW is now the site of oil rigs and a secure passageway from the north down to the Gulf of Mexico.
During the Intracoastal tour of the ICW, you can explore everything from Bull's Bay to the Copahee Sound to Gray Bay and all the way to Rockville. The Copahee Sound is a well-known fishing and kayaking location while Grey Bay is home to multiple islands. You have the option to customize your Intracoastal sailing charter itinerary to experience these scenic waterways in any way you desire.
When you choose Ospreys Intracoastal Tour Charters in Charleston, SC, we'll make it a point to stay in calmer waters. This makes it a much-preferred choice for those that are cautious about open-sea charter cruises.
The ICW is home to a multitude of freshwater wildlife. Keep an eye out and you might see manatees swimming near the ship. Pelicans will be scooping up fish and otters will be tending to their homes. Bring your camera and binoculars so you don't miss out on the variety of birds that call the ICW home.
Our team at Osprey Boat Charters prides itself on offering top-notch amenities coupled with the experience of a lifetime. We want your visit to Charleston, SC to be one you remember year after year. When you're ready to pick out your Intracoastal tour experience, reach out to us about taking an Intracoastal charter tour. We cannot wait to show you the beauty of Lowcountry's backwaters.