Bachelorette Party Boat Charters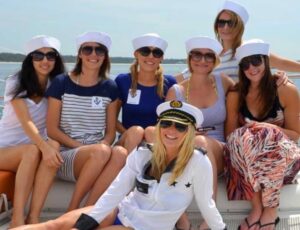 Want to give the bride tribe the ultimate experience during your mini-vacation? Celebrate your engagement out on the water during your trip to Charleston, SC. The Osprey is experienced and ready to be your go-to bachelorette party boat in Charleston. Are you coming with a large group? We have space for up to 49 people so you don't have to limit the guest list if extended family and friends live nearby. Invite everyone out for an amazing time on the water because it's the last big weekend before the wedding. 
The Osprey is designed for space and comfort whether you want to be entertained or chill out. Enjoy the breathtaking sea views from the outdoor deck or relax in a covered seating area. Our on-board sound system won't disappoint. Bring your favorite playlists and dance the day away. Fancy live music? Ask us and we can arrange it for you. We'll even set up open mic or karaoke if you want to put your musically inclined group members on the spot
During the cruise, let our dedicated staff handle everything. We have a wide catering menu to accommodate different diets and personal tastes. Choose from our lighter bites like sandwiches and cheese boards to an authentic Lowcountry shrimp boil with fresh-caught shrimp. The Osprey also serves a selection of local beers, mixed drinks, and champagne for guests that choose to drink during the bachelorette party boat tour. 
At Osprey Boat Charters, we pride ourselves on offering the highest-quality amenities and sailing experiences in Charleston, SC. We're here to handle your group's needs from booking to the day of your excursion. All you need to do is relax. Our team is ready to make this visit to Charleston, SC one to remember for a lifetime. Reach out to us about booking a bachelorette cruise on The Osprey.